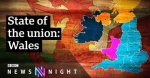 The leader of Plaid Cymru, Adam Price, has said the general election could signal the start of a movement towards "a new Welsh spirit of independence and optimism".
Speaking at the nationalist party's campaign launch, Price put the idea of Wales breaking away from the UK and remaining in the EU as an independent country front and centre of the Plaid campaign.
"That pencil we will all hold in a few weeks could be the start not only of a new politics but a new Wales, a new hope for all of us," he said.
Plaid's campaign slogan is "Wales, it's us". Price said: "It's us, the people of Wales, that hold the key to the nation's future … an independent Wales.
"Now is the time to focus on the future, not the past. I believe like never before the best days for Wales are ahead of us, and 12 December [election day] can be a day on which we declare a new Welsh spirit of independence and optimism and hope by refusing to put our faith in the Westminster parties and instead voting for a future that we ourselves will shape.
"This is the election in which Wales will begin to find its voice as a nation. It will start as a whisper, a still, small voice in the darkness, but it will end with a chorus. Speaking with one voice … Now is our time."
Plaid's launch took place, as it did in 2017, in a hotel close to the Menai strait in north Wales. Two years ago, the then leader, Leanne Wood, focused on the idea of defending Wales from the Tories in London and the Labour-led government in Cardiff, with independence sidelined.
Price took swipes at Boris Johnson and Jeremy Corbyn, complaining Wales was suffering economically and socially because of decisions made in Westminster and Cardiff.