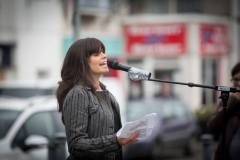 UP to 50 Welsh language campaigners could face jail due to their refusal to pay their TV licences.
Cymdeithas yr Iaith Gymraeg has launched a campaign to devolve control over broadcasting to Cardiff Bay.
The pressure group want decisions over broadcasting to be made in Cardiff Bay to allow Welsh language services to be expanded, with around 50 understood to be taking part in the civil action.
But the pressure group has also expressed concerns over a 'democratic deficit' in Wales, accusing broadcasters of treating the nation as a region of England.
Heledd Gwyndaf, Chair of Cymdeithas yr Iaith Gymraeg, is one of the those who are refusing to pay their £147 a year licence fee until the powers are transferred.
Fully accepting she could face jail for her actions, she said: "We've had enough of a media which ignores the Welsh language and Wales' democracy," she said.
"It's really encouraging that more and more people from every part of the country are taking a stand against a system which deprives us of a media which reflects Wales' needs and aspirations"
S4C is currently answerable to the Westminster Government's Department of Culture Media and Sport, which last year announced it was going to protect the channel's funding.
But Cymdeithas want responsibility to be transferred from London to allow Welsh language services to be expanded, with the existing S4C Authority to become a Broadcasting Authority for Wales to replace current regulator, Ofcom.